Walking Canary Islands Gran Canaria
Gran Canaria - Island of Canyons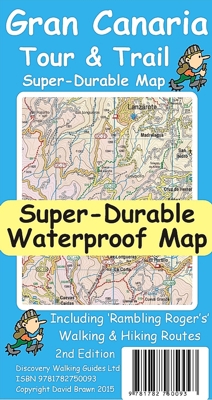 September/October 2013 saw us researching on Gran Canaria carrying out a gps ground survey that will provide the input to a new Gran Canaria Tour & Trail Super-Durable Map that was published in March 2014. Thanks to 'Rambling Roger', Isabelle and Dane continuing
their research to produce 100s, 1,000s, of updates including the expanding 'official hiking' route network we can now bring you
our new 2nd edition Gran Canaria Tour & Trail Super-Durable Map isbn 9781782750093

We are working with 'Rambling Roger' whose extensive hiking experience on Gran Canaria since becoming an island resident is proving invaluable. Check out Roger's Gran Canaria walking guide books and his hiking services at http://www.ramblingroger.com/
Roger and his mountain hiking mates Isabelle and Dane, all equipped with mapping gps units, have been invaluable in surveying the walking trails and advising on the map design so that we can confidently say this is the most detailed map of Gran Canaria that is available.

Gran Canaria Tour & Trail Super-Durable Map covers the whole island at 50,000 scale
in a double sided map sheet of North and South with a generous overlap common to both North and South map sheets.

Water-proof, split-proof, tear-proof, adventure-proof. Gran Canaria Tour & Trail Super-Durable Map is simply the toughest, most accurate, easy to read, easy to use map of the island you can buy at any price.
David & Ros Brawn have partnered with Gran Canaria's hiking experts 'Rambling Roger', Isabelle and Dane; five researchers with mapping gps units who have surveyed Gran Canaria in detail to produce this map.
New for our 2nd Edition are new style fonts making the map easier to read along with a comprehensive updating by our trio of hikers including the official network of hiking trails, highlighted in green, plus 'Rambling Roger's' trails highlighted in red.
Large, 50k scale, easy to read map sheets include a wealth of useful details. 20 metre and 100 metre contours combined with altitude shading bring these impressive landscapes to life. All of the legendary Tour & Trail attention to detail is included so that you will find those petrol stations, mirador viewpoints with parking, refreshment stops with parking and accurate road numbering that are so essential when adventuring by hire car.
'Off-Tarmac' Gran Canaria Tour & Trail Map is in a league of its own thanks to all the hiking trails and dirt tracks surveyed by Roger, Isabelle and Dane.
Rambling Roger's walking trails from his two guide books are highlighted in red making this map and Roger's books perfect for your walking adventures.
'Super-Durable' means a waterproof, tear-proof, map that can take the roughest treatment and still folds up like new after your adventures. Printed on Polyart using specialist 100% oxygenation inks produces a lightweight map that feels like silk but is a tough as old boots as it shrugs off water, resists tearing and damage better than any other map.
'Super-Durable' combined with our special concertina map fold means this 'near indestructible' Tour & Trail Map unfolds easily for use, and more importantly folds back up easily to its compact pocket size even after the toughest use.
Custom Map digital edition for Garmin users is available from Discovery Walking Guides website dwgwalking.co.uk plus digital editions are available for 3G gps apps from Viewranger and MyTrails.

Tour & Trail Super-Durable Maps are printed on Polyart using 100% oxygenation inks which produces a lightweight map that feels like silk while being both water-proof and incredibly tough so that after even the toughest of adventures your Tour & Trail Super-Durable Map will fold up like new. Polyart is made of high-density polyethylene (HDPE) and is therefore 100% recyclable in category 2 HDPE.
For more information see the Polyart website at http://www.polyart.com/en
Gran Canaria Tour & Trail Custom Map for Garmin users Free Digital Custom Map edition click here for details

Gran Canaria Tour & Trail Super-Durable Map isbn 9781904946984 ₤8.99 is available from



Click on the links below to move to another page:
Home Page. Current Titles. Tenerife. Lanzarote. La Gomera. La Palma. Fuerteventura
Walk! Abroad Walk! at Home-UK DWG sitemap
Unsure about DWG books and maps? Email us with your thoughts and ideas.