Alpujarras Sierra Nevada Map Spain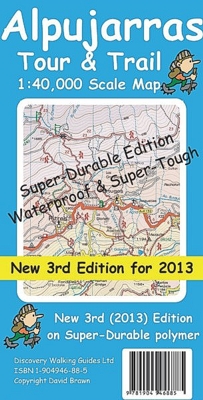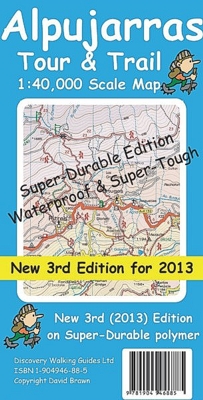 Alpujarras Tour & Trail Map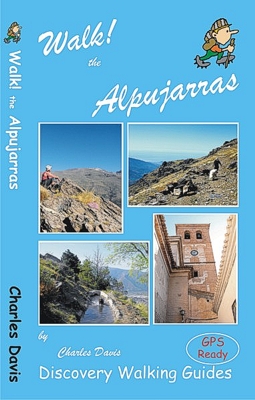 Alpujarras Tour & Trail Super-Durable Map 3rd Edition (Sold Out)

isbn 9781904946885 The definitive map for this exciting region now includes 20 metre and 100 metre contours to give a true feel to the landscape.
GR240 & GR7 (Gran Recorido hiking routes) are detailed along with all the thirty six walking routes from Walk! the Alpujarras.
40k scale map printed on Polyart for super-durability in the toughest of conditions; waterproof, tearproof, and folds up like new even after extreme use.
Special 'concertina' map fold means your map unfolds quickly for use, and possibly more importantly easily folds back up to its pocket folded size.

New 4th Edition will be available for when the Alpujarras reopens for adventures.
Our 3rd Edition sold out just as Covid 19 closed down tourism worldwide.
Lock-Down has given David Brawn, with a little help from Jan Kostura, the time to design our big new 4th Edition.
4th Edition will be a 'double sided' larger map sheet covering more than twice the ground area of earlier editions.
Our Western extent starts at just west of Lanjaron, while our Eastern extent now goes beyond Ohanes.
A larger map sheet now means our Northern extent includes Sierra Nevada.
All the level of detail you enjoyed with our first three editions but now extended to a much larger map area.
Super-Durable, Waterproof, and twice the map of previous editions
But still only £8.99 now that's great value

digital Alpujarras Tour & Trail Custom Map click here



Tour & Trail Super-Durable Maps are printed on a plastic substrate using 100% oxygenation inks which produces a lightweight map that feels like silk while being both water-proof and incredibly tough so that after even the toughest of adventures your Tour & Trail Super-Durable Map will fold up like new. Polyart is made of high-density polyethylene (HDPE) and is therefore 100% recyclable in category 2 HDPE.
For more information see the Polyart website at http://www.polyart.com/en

Put Tour & Trail on your Garmin. Custom Map editions of our Tour & Trail Maps
Home Alpujarras Menorca, Mallorca, Madeira, La Gomera, Titles