Key Features - Buses; de-stress & add a new dimension to your walking
Our sympathies go out to those drivers who have to use the M25/M6 etc. So much of British life seems to revolve around driving/traffic jams/road rage/parking problems it would be nice to get away from all that when we are on holiday. Wouldn't it be pleasant to sit back and let someone else do the driving while you can relax and enjoy the views. Driving abroad can be an unnerving experience due to unfamilar car, LHD, different driving priorities, unusual landscape and quirky driving habits (see Madeira page). "Walk!" guidebooks allow you to escape the pressure of hire-car driving by linking our walking routes to local bus services whenever possible. For a lot of our destinations we find local buses whose quality of services range from good to exceptional. Often the bus ride to the start of a walk is an excursion in itself, such as the ride from Puerto de la Cruz up to La Caldera (Tenerife).


On our latest research we bussed on the 342 from Las Americas to La Escalona (Cruce de Ifonche) then walked in to El Dornajo's (shut at 10.45!) and out on our 'Wow Spectacular' route; except that this time we do not stop at the 'football'. We carry on down what was once the Camino Carrasco. It is vertiginous, potentially dangerous, the trail such as it is has an awful rock-littered surface for much of the steep descent, and five hours after setting out we are catching a bus from Adeje back home to Las Americas. This awful long linear route will be in the new Walk! Tenerife simply because it is the Most Spectacular mountain descent in the south of Tenerife and while we might be bruised and battered by the experience a lot of experienced mountain walkers will marvel at the elation completing this route brings, and all of it accessed by bus.
'Siete Canadas' is best accessed on the 342, as is our 'Crater Rim Challenge' starting from the Parador and finishing in Vilaflor.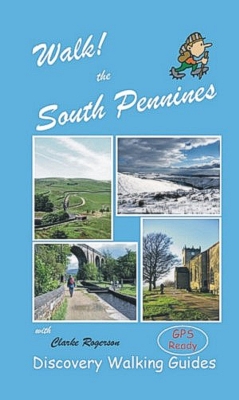 Walk! the South Pennines by Clarke Rogerson is a unique guide book where every route is accessed by train. With a cheap day railcard you can explore the dales and fells of this unique region. Almost every route seems to either finish at, or call in at, a CAMRA rated 'tipico' while not having to drive means that you can indulge in some consumer taste testing rather than the 'swift half' of the car driver walker!
Using buses adds a new dimension to a holiday. As well as the sightseeing during a bus ride it means we can undertake linear walks, such as "Queen of the South" and "King of the North", both on Tenerife, which are not possible by car. Linear walks mean that we can have surprise endings (see Tipicos). So free yourself from car-based stress during your vacation and concentrate on enjoying yourself.
As our routes have been getting more adventurous with each "Walk!/Walks" guidebook offering a range of walking up to expert level it follows that not all the routes will be accessible by bus. For car access routes we make sure that car parking opportunities are given as part of the walking route introduction.
Click on these headings to move to other pages
Key Features "Warm Islands" Walking Philosophy Maps and Mapping Walk Descriptions. 'Tipicos'. Rating of Walking Routes.